Friday, Sept 30 2012

Vintage Aircraft Weekend is an event hosted by John Sessions of the Historic Flight Foundation in Everett, WA. This year I had my first chance to attend this incredible gathering with the gang from the Canadian Museum of Flight.
Our group, representing the Canadian Museum of Flight consisted of Vic Bentley and Jim Beswick in the de Havilland Tiger Moth. George Kirbyson and Bob Fowles in the Waco AQC-6 Cabin and Bill Findlay with myself in the North American Harvard MK IV.
We departed Langley Regional Airport on Friday morning (August, 31) and headed for Bellingham where we'd clear customs and visit with our friends at the Heritage Flight Museum. This leg of the trip is under 15 minutes for the Harvard and Cabin....a little longer for the Moth.
The next leg of the trip would be about 30 minutes and would land us in Paine Field. The flight over was excellent, calm air, beautiful skies and the promise of beautiful aircraft on the ground awaiting us.
When you get there you'll know it as it's hard to miss all the new Boeing metal on the ground below!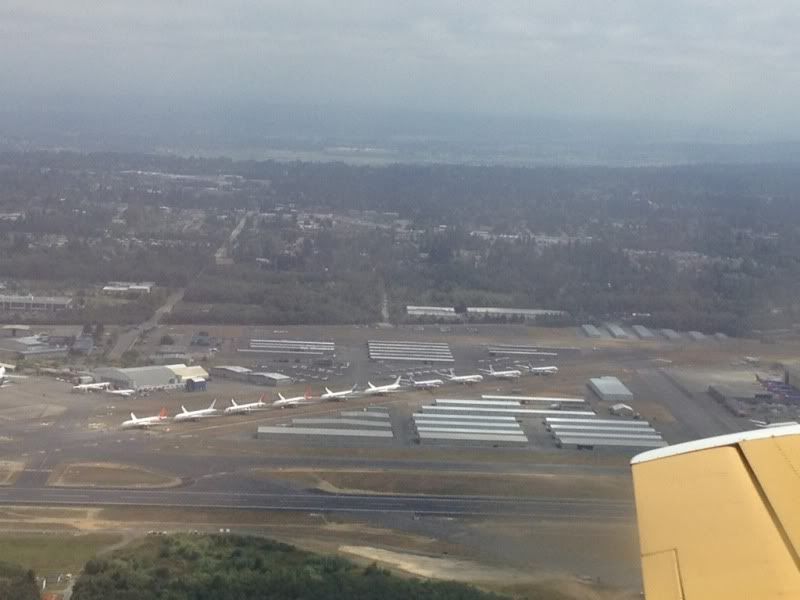 Once on the ground we were greeted by the very friendly volunteers from the Historic Flight Foundation for pilot check-in and a tug to assist with the parking of the aircraft. Once settled in we walked around the line a bit and eventually boarded a shuttle (provided by HFF) for the hotel at the other end of the airfield. All checked in we decided it was time to go get lunch so again, a shuttle from the hotel would take us to the beautiful waterfront where we'd grab a bite at Ivar's. I highly recommend this place...excellent staff, great food and an incredible view!

After a bit of downtime at the hotel the group gathered for a shuttle back to HFF for dinner, music, dancing and camaraderie. The weather was incredible, the food was fantastic and the music was so very enjoyable. I took advantage of the beautiful sunset and blue moon and went down the ramp to photograph some of the remarkable aircraft in attendance.

Such a fantastic and appropriate coincidence that we'd have a blue moon on the day that Neil Armstrong is laid to rest.

People walking around with their partners or just wandering around on their own looking at aircraft from all walks of life up close and personal. Couples posing for photos in front of the Waco Cabin, a reenactor standing in front of the P-51 and photographers galore snapping off shots of whatever they could before the light went away.
Saturday, Sept 1 2012

We woke to sunshine and a pilots briefing at the hotel. Bright and early at 0800 which might have been somewhat difficult for some but to everyone's credit...a full room of professionals on hand, ready to take on the day.

Shuttles would eventually take everyone from the hotel back down to HFF to prepare for the flying events of the day. Soon the field outside the Museum would be packed with cars and the grounds would be crawling with aviation fans young and old. The hill would be covered with photographers eager to claim their spot for the day in hopes of the best line of sight for all the flying demonstrations.

Flying would begin at noon. Fans would see everything from a one of a kind Stinson Model O to a PBY water drop with several vintage aircraft in between such as HFF's Spitfire MK IX, our Waco, Harvard and Moth to name just a few.

Another treat for the people in attendance would be a 4 ship T-6 formation led by Bud Granley which also included our own Bill Findlay, Bob Jones and Craig Nelson. Fans cheered on every pass as they flew by in different formations showing off their beautiful aircraft paired with their incredible skills as formation pilots.

VAW left all of us with a collective smile on our faces and lots of great stories and memories that will no doubt last for a long time. For myself, this was a very unique experience and one I'm extremely grateful I had the chance to have.
I'd like to thank Mr. Sessions for hosting such a wonderful event, for his above and beyond hospitality and dedication to the preservation of aviation history through his collection and events he's both hosted and been part of. Also big thanks to all the staff and volunteers at Historic Flight Foundation. My first visit to that fine Museum was a great one and I can't wait to return someday!
Mike Luedey